UO > About > Organizational Structure > Faculties & Institutes > Faculty of Medicine
Rastislav Maďar
Dean of the Faculty of Medicine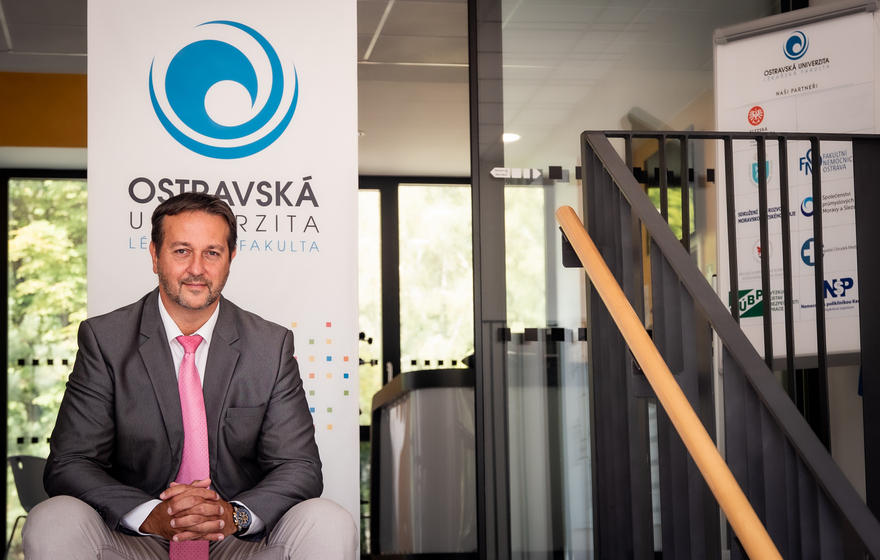 Academic degree, name, surname:
doc. MUDr. Rastislav Maďar, PhD., MBA, FRCPS
Position:
Head of Institute
Dean
Research interests and teaching:
Phone number, mobile:
+420 553 46 1786
+420 553 46 1701
No record found. Database Maintenance.
Škerková Michaela
The determination of hearing threshold by high-frequency tone audiometry in a productive age
Hořínová Simona
Subjective evaluation of health condition after coronavirus infection
Ostřížková Silvie
Vaccination of travellers with chronic disease
Hrdý Vojtěch
Tick-borne encephalitis in Vysočina region
Volfová Jana
Salmonellosis, campylobacteriosis and shigellosis in the Moravian-Silesian region
Janáčková Petra
Timing of vaccination schedule before traveling abroad
Chýlková Denisa
The appearence MRSA in commune facilitares
Havlů Petra
The public health importance of bacterial meningitis
Grosman Tomáš
Prevalence of the colon cancer in Czech Republic
Melicharová Zuzana
Sexually transmitted diseases at the beginning of the 21st century
Malechová Lenka
Economical aspect of immunization pragramme in Czech republic
Salačová Hana
The influence of the National immunization programme on the reduction of incidence of infectious diseases in the Czech Republic
Ševčíková Vendula
Epidemiological Aspects of Pneumococcal Diseases
Novotná Adéla
The importance of the department of central sterilization in the prevention of hospital infections
Dudková Nikola
Vaccination during pregnancy
Kuželová Veronika
Characteristics and epidemiology of HPV
Šigutová Lenka
Importance of collective immunity achieved by vaccination
Vavrečková Kristýna
Prevention specifics for traveling at-risk population groups
Kaluscha Náhlík Vladimíra
Diabetes mellitus as the threat of the 21st century
Klegová Veronika
The prevalence of cervical cancer and possibilities of its reduction
Koběrská Eliška
The incidence of pertussis in the Czech Republic and possibilities of its reduction
Kraviecová Ivana
The Prevention of Infectious Diseases Transmissible through Donation of Blood and Blood Derivates
Mikesková Lucie
Addison´s disease in the Czech republic and in the World
Němček Kateřina
Awareness about nosocomial infections in patients and lay population
Šlachtová Marcela
Prevention of Tick-borne meningoencephalitis by means of vaccination - the myths and facts
Valášková Jana
The Impact of Climate on the Change of Endemic Areas of Infectious Diseases
Valová Michaela
Women's breast cancer prevention in the Czech republic
Juřičková Šárka
The endemical territories of zoonotic infections in Moravia
Mokrá Marie
Professional infections in health care workers and their prevention
Oršulíková Iva
The importance of vaccination against diphtheria
Píchová Petra
Possibilities of endemisation of vector-borne exotic diseases in Central Europe
Říčná Markéta
Epidemicaly important operations and principles of their control
Sněhotová Zuzana
The level of knowledge and attitudes towards the influenza vaccination in individuals not under the risk.
Štěrbová Helena
Perspectives of vaccinology and development of new vaccines
Havlů Petra
The public health importance of meningococcal meningitis in Czech Republic
Illéš Tomáš
Tuberculosis - focus on vaccination and increased resistance of mycobacreria
Lapčíková Marie
Handling of biological material at the Departments of Anestesiology and Resuscitation
Grosman Tomáš
The Risk of Importation Hemorrhagic Fevers to the Czech Republic
Melicharová Zuzana
Selected aspects of travel medicine