About the Department of Anatomy
The Department teaches courses in anatomy – the oldest theoretical medical discipline and the basis of medical morphology. Courses are taught in all types of medical and non-medical (health care) degree programmes at undergraduate level.
The Department of Anatomy was established on 1 September 2010. Anatomy courses for students of the General Medicine degree take place over three semesters, and consist of a theoretical component (lectures) plus practical tuition based on anatomic dissection.
A thorough knowledge of anatomy and the structural topography of organs (including their variability) is an essential precondition of all medical practice. Students in the third year of the General Medicine programme attend a course in Topographical Anatomy, which also helps prepare students for their final examinations.
Practical training uses human cadavers provided by donors on the basis of agreements to donate bodies for scientific/teaching purposes.
Anatomical specimens are produced in cooperation with the forensic laboratory technician Mr. Tremko and a team of students supervised by Department staff; this contributes to a growing museum of anatomical exhibits. Students use cadaver organs to create 3D specimens demonstrating the topography of organ structures; these can also be used in surgery training.
The Department, in conjunction with the Trauma Centre at Ostrava University Hospital, plans to create a laboratory for researching the safety of trauma patients in high-risk environments; this cadaver centre will be also used as an undergraduate and postgraduate teaching centre, and it will be able to host workshops. The cadaver lab will enable researchers to design and test new techniques and methods for operating on trauma and polytrauma patients in a hospital environment, developing new devices with improved surface coatings providing enhanced safety not only for patients, but also for medical staff. Based on this research, it will be possible to create new models for fixators used in bone fracture treatment, which will then enter production and be used in trauma surgery.
Courses in human anatomy at the Faculty of Medicine also use new methods involving computer software, multimedia 3D projections and artificial specimens. Footage from autopsies can be transmitted from the autopsy room directly to teaching rooms using modern camera/data transfer systems.
The Department's close links with clinical departments at the Ostrava University Hospital make a major contribution to the quality of its teaching provision; these clinical workplaces (covering surgery, traumatology, neurosurgery and ORL) are essential components of students' practical anatomy courses – clinical anatomy, demonstrations, access routes, and simulation of operations including stitching techniques. The Department of Anatomy also works closely alongside the Faculty's Institute of Emergency Medicine to organize the "Cadaver Workshop" course focusing on local anesthetic and vascular access.
The Department has collaborated with the University's Faculty of Science to create a 3D projection programme for anatomy courses.
Department staff have also authored a wide range of teaching materials.
Research at the Department focuses primarily on lymphatic organs under physiological and pathological conditions. Other areas of research include chronic injuries to the locomotive apparatus (lower limbs) in athletes, and the study of the liver (neurovascular relations depending on physiological and pathological conditions), using dynamic cholescintigraphy for a comprehensive assessment. Research is funded from a range of sources including Ministry of Education interdisciplinary research programmes and University internal grants.
Department staff regularly present the results of their research at conferences in the Czech Republic and abroad. The Department also organizes the conference "Clinical Morphology Days" and publishes a volume of proceedings from the event.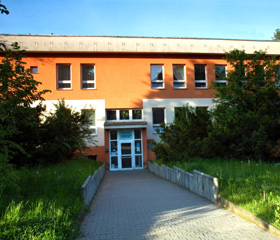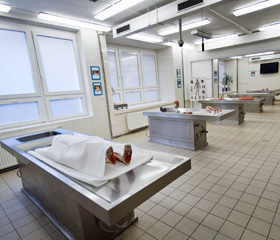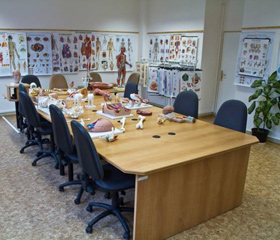 Updated: 24. 02. 2022